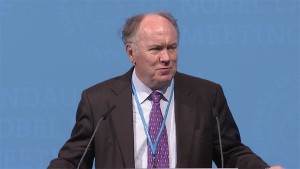 Edward C. Prescott (Glenn Falls, 1940) is a Nobel Prize economist. He won the award in 2004 together with his colleague Finn E. Kydland, thanks to their contributions in dynamic macroeconomics: "the time consistency of economic policy and the driving forces behind business cycles".
He is also known for his research in general equilibrium and business cycles. He got his PhD in economics at Carnegie-Mellon University in 1967. Another seminal contribution of professor Prescott (jointly with his colleague Robert J. Hodrick) to the economy, and especially to real business cycles, is the Hodrick-Prescott filter,  used to smooth fluctuations in time series data and remove its cyclical component.
Nowadays he works in the Federal Reserve Bank of Minneapolis and he also holds the Carey Chair in Economics at Arizona State University.